Franchise Information and Opportunities
Franchising
At Deck Medic, we don't sell franchises – we award them. The Deck Medic brand has filled a growing demand since 1990 and business opportunities are now available in territories across the United States if you are motivated and customer service minded.
Start your path to independence with a no obligation, discussion about DeckMedic franchising opportunities available now! Check on availability in your area.
Deck Medic's success in the United States is directly tied to the commitment that our Franchisees bring to their local businesses. Entrepreneurs and invested individuals at heart, our Franchisees have made a life-long investment in their growth strategy, retention, and customer service commitment.
Franchisees spend their time and resources to build the Deck Medic brand with the support of the entire Deck Medic support staff, including operations, marketing, HR, and finance.
We offer our Franchisees complete training, ongoing support, professional insights, and advice to achieve the highest level of success. By adopting the nationally recognized Deck Medic brand, Franchisees start with a consistent stream of new business and referral partners. Managing your own hours, low-risk opportunity with the territory protected, and low initial investment, are supporting factors to taking the next step in owning your own Deck Medic franchise.
Are you ready to be your own boss? Find out more. No obligation. Call 708-670-9140, or email jeff@mydeckmedic.com We look forward to working with you!
Some things you should expect
The Deck Medic franchise opportunity is unique in the home service industry. We want to make you aware of the realities of owning and operating a Deck Medic territory, as well as the advantages we offer our franchisees on a consistent basis to support growth and ensure success.
---
Still curious about becoming a Deck Medic Franchisee?
The best way to see if you're a great fit for Deck Medic is to schedule a no-obligation, introductory call. This 15-minute call with the VP of Deck Medic Franchise Development will provide you with a high-level understanding of what we're looking for. We will also be able to answer any questions you have!
Hear Some Testimonials From Other Franchise Owners
---
Deck Medic Franchisees bring passion, grit, and determination to build and sustain their business. They each say it best!
"Deck Medic provides such a strong level of support. Even beyond the initial training, which is excellent. They're always ready to help whenever you have a question, whether it's an on-the-job issue or how to help you train and manage your growing team. They've been instrumental in helping me get to the next level. We have a great family type of culture. That's what's great about this business is having someone else to turn to. Seeing the growth that's happened over the years is good for me, too. It makes our brand bigger, and my business as a result."


Ryan Driscoll
Owner of a Deck Medic franchise, Fox Valley, IL

"I owned a holiday lighting company for over a decade. After taking a buyout, I started looking at other opportunities. The reason why I chose Deck Medic over starting a business on my own is that I'm in my mid-40s. I know how hard it is to start a business from scratch. Deck Medic has built out all the systems and processes and has proven the business model over the last 30 years. I knew the demand for Deck Medic's services were incredible. Since we've launched our business, we've continued to grow. It's been a fantastic experience."


Scott Bishop
Owner of a Deck Medic franchise, Southern Cook Co., IL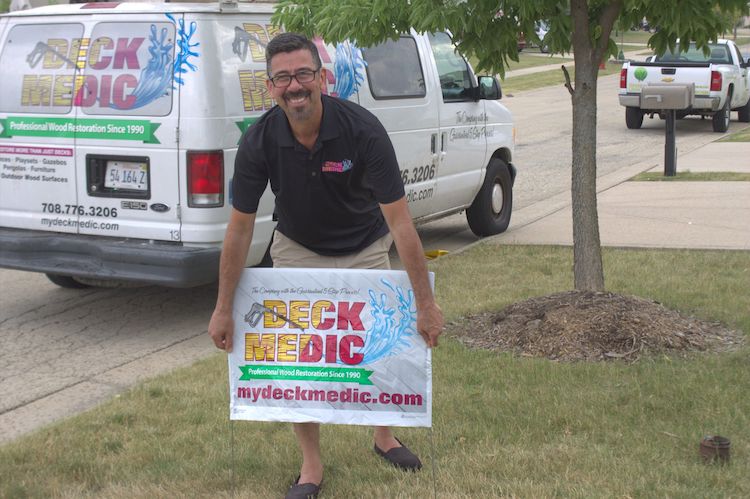 Emerging (or growth) territories
The Deck Medic brand is expanding across the United States. Future Deck Medic territories are determined by Deck Medic ownership. With more than 20 locations open, Deck Medic restoration franchise is ready for national expansion.
All we need are the right entrepreneurs to join us. Find out where we're growing next.
Related Stories
---